Good morning!
I'm happily stamping away in my office this morning.  It's cold and pouring rain outside and I could really careless since I can get lost in my stamping and can create a scene with no rain at all in it.  They sky is really gray here but not in today's card.  I decided to put in a nice bright sky behind these purple mountains.
Boy oh boy have I gotten use out of this Stampin' Up! Wonderland stamp set.  The pine tree stamp in this set is my go to tree stamp now.
Here are some samples of a few other cards I've made with this set over the last couple of months.  One thing about a pine tree image is that you can use it in every season since it doesn't change much in appearance throughout the year.
Like I said, the trees in the Wonderland stamp set are at the top on my favorites list.  🙂
YOU CAN SEE JUST HOW TODAY'S PROJECT WAS CREATED IN TODAY'S TUTORIAL.  SEE HOW TO GET IT AND 11 OTHER TUTORIALS FROM THIS MONTH FREE BELOW.  LEARN TECHNIQUES YOU CAN APPLY TO YOUR OTHER STAMPING PROJECTS AS WELL.
******************************************************************
Complete Supply List
******************************************************************
 

HAVE A WONDERFULLY CREATED DAY!
UNTIL MY NEXT POST. . . . . . .  .
Huge Hugs!
*****************************************************************
Get the Whole Month Worth of Tutorials Free, 12 in all!  Plus, earn tokens towards a free stamp set.
Place a $50 merchandise order between December 1, 2015 and December 31, 2015 and receive the entire month of tutorials (at least 12) free of charge via e-mail.
You will receive all of the project tutorials for the month of December as they are created.  You will also receive 1 virtual token from me for each $50 in merchandise purchased with your order.  Collect 10 tokens and receive a free stamp set of your choice up to a $30 value.   Now, that's the way to get some bang for your buck!
Free tutorials are an exclusive perk for my valued Stampin' Up! customers and down line.
          
First 8 Tutorials you will get with 4 more to come to you as they are created.
PLEASE USE HOSTESS CODE: 

   NVQGGSEA

 

  When placing your order.   (DO NOT USE IF MERCHANDISE ORDERED IS OVER $150)
If you wish to receive the tutorials please do not click the "no contact" box when placing your order. 
*****************************************************************
TO PURCHASE THIS MONTH'S SINGLE TUTORIALS OR THIS MONTH'S TUTORIAL PACKAGE CLICK HERE FOR DETAILS.
*******************************************************************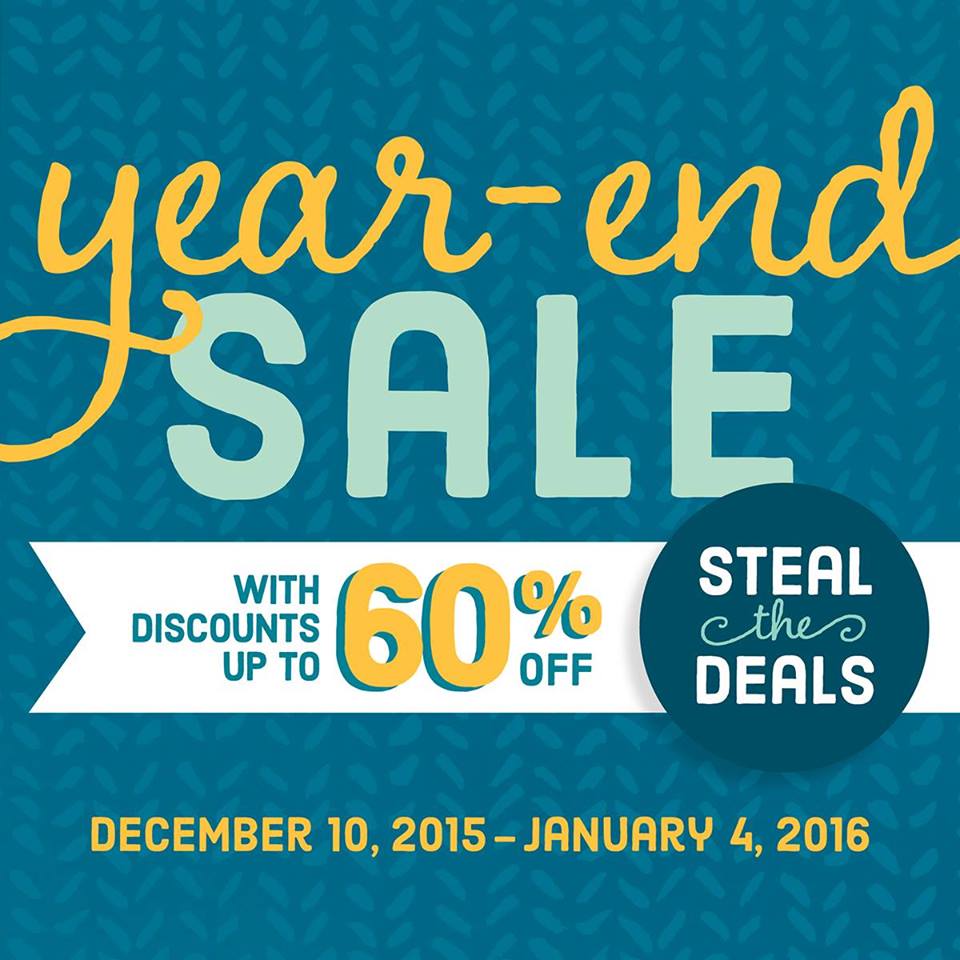 We will have more products on clearance for our Year-End Sale December 10, 2015-January 4, 2016! 60% OFF select products. While supplies last.
It's the end of the year, so we're cleaning our inventory and making room for new products–and we're offering you some great savings while we do it! We're adding more products to our clearance rack and discounting select items from the holiday catalog. (Products on the Holiday Retiring List are now discounted up to 40%.)
During the Year-End Sale, you can find ALL discounted products in one location in the online store: under the Year-End Sale. So don't fret if you don't see the category "Clearance Rack" on the online store right now–it has been integrated into the Year-End Sale.
SALE DETAILS:
Promotion Dates: December 10, 2015-January 4, 2016.
No minimum purchase required.
No refunds or exchanges on Year-End Sale items.
Items offered during the Year-End Sale are while supplies last.
Online customers can add non-Year-End-Sale items to their order.
Year-End Sale orders are eligible for Stampin' Rewards with qualifying orders.
Following the Year-End Sale, some remaining items may stay in the Clearance Rack. Other items may be removed from the Clearance Rack to be added at another undetermined time.
Orders must be placed online.
*******************************************************************